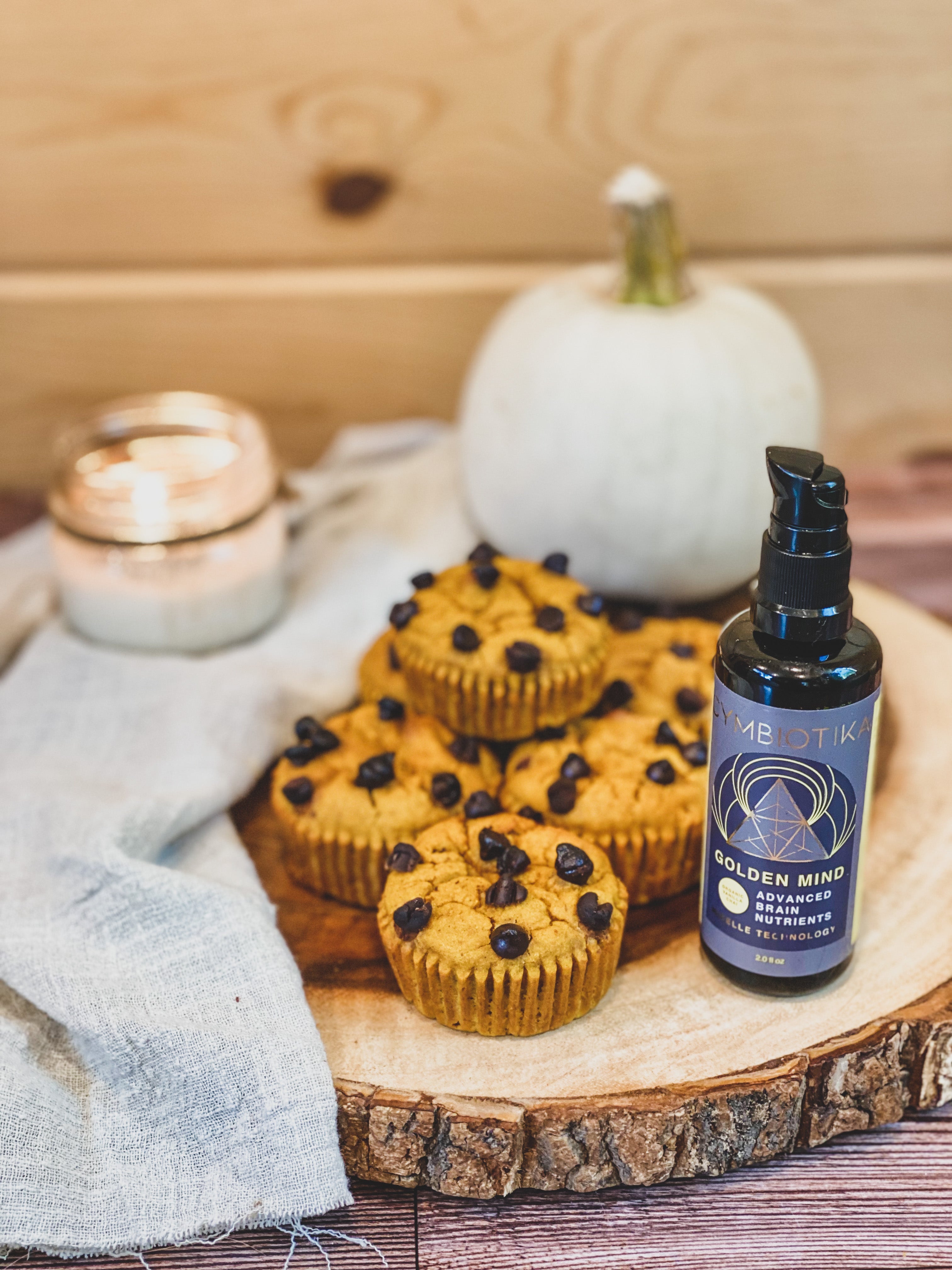 These pumpkin chocolate chip muffins are super easy to whip up and are the perfect autumn treat! With just 10 ingredients, this recipe is clean, easily digestible, and affordable as well.
Pumpkin is a great food to incorporate when it's in season for its numerous health benefits. This winter squash is rich in antioxidants which help neutralize free radicals, vitamins such as A & C which boost immunity, potassium, and fiber to keep you full throughout the day!
We also added in our Vanilla Chai Golden Mind formula to enhance this recipe with herbs and adaptogens such as Lions Mane Extract, Rhodiola Rosea, L-Theanine, American Ginseng, Gotu Kola and more. These ingredients have been shown to spark peak mental performance and strengthen the structure of the brain to protect against cognitive decline as we age.
Be sure to save this recipe for future reference & share with others who would love it!
Recipe
Prep time: 5 minutes
Bake time: 20 minutes
Yields: ~9 muffins
Ingredients
⟁ 2 cups GF sprouted oats
⟁ 1 cup canned pumpkin
⟁ ¾ cup milk of choice
⟁ 3-4 tbsp of maple syrup or sweetener of choice
⟁ 2 pasture raised eggs (can also make flax eggs as vegan substitute)
⟁ ½ tsp baking powder
⟁ ½ tsp apple cider vinegar (to activate baking powder so muffins rise)
⟁ ½ tbsp pumpkin pie spice
⟁ pinch of salt
⟁ 14 pumps of Cymbiotika's Golden Mind
⟁ Vegan Chocolate Chips (optional)
Directions
⟁ Blend all ingredients together (besides chocolate chips) until smooth and pour evenly into muffin trays OR bread baking dish (for a loaf)
⟁ Top with chocolate chips & bake in oven at 350° F for 20-25 minutes (at the 20 minute mark, poke hole in the middle of one muffin to see if it's still sticky. If so, bake for 5 for minutes)
⟁ Remove from oven to cool and enjoy :)