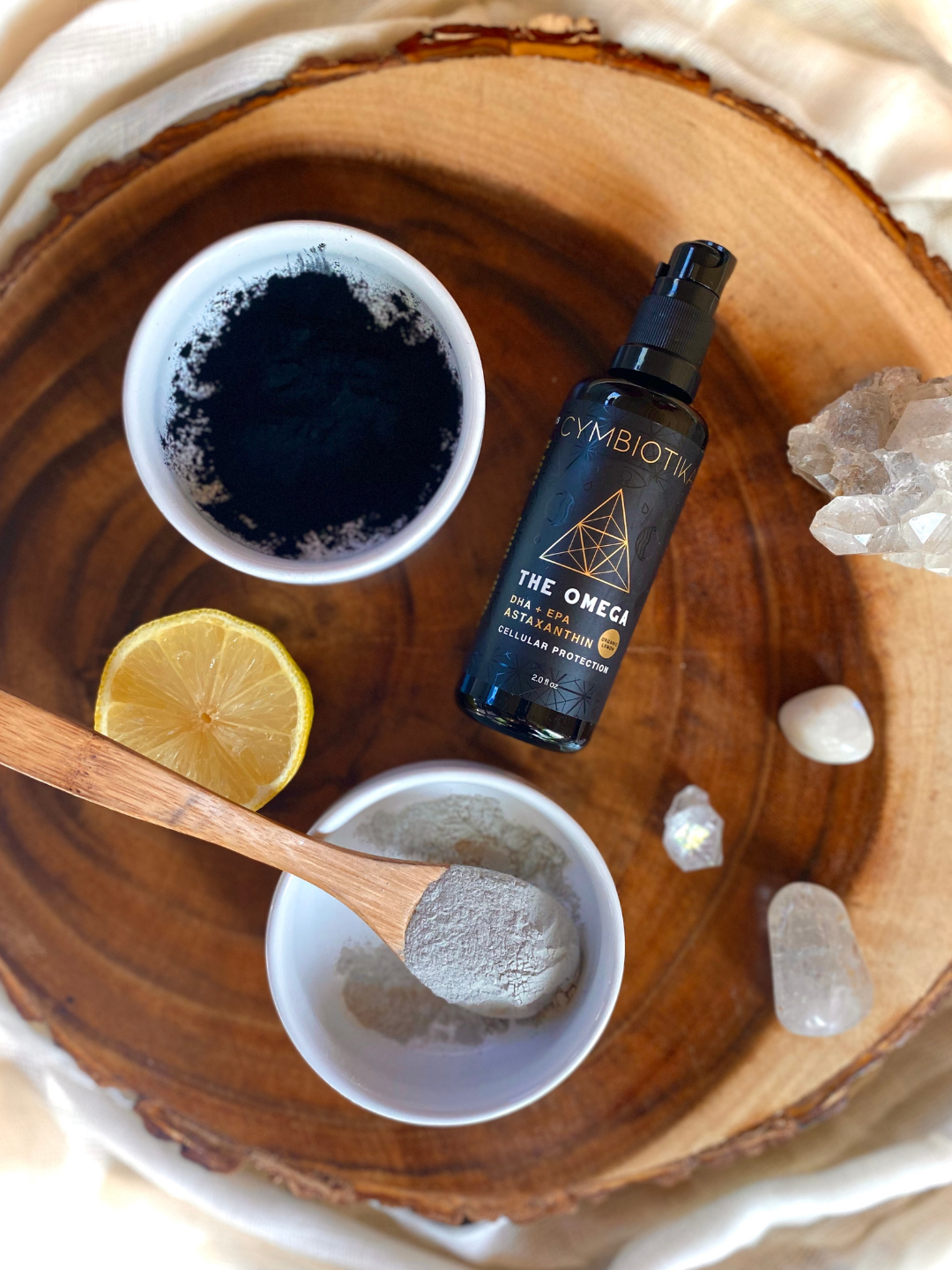 There's an ancient secret to having a radiantly glowing complexion— and it all starts with the detoxification process of the pores on the skin.
We have created an incredible detoxifying, uplifting and hydrating face mask from simple ingredients that are 100% organic/chemical free and we are so excited to share it with you!
The base of this mask is bentonite clay, which has been used for centuries to absorb oil and dirt from the skin, thus purifying it's surface. Along with this, we have also used activated charcoal, a powder that helps draw impurities from the skin and may aid in improving acne by clearing clogged pores. The finishing touches of this mask are lemon which is a skin brightening agent, and our favorite ingredient of all— The Omega. We have chosen to add The Omega into this face mask recipe because of it's high amounts of Astaxanthin, which is a powerful antioxidant that may hydrate the skin, reduce inflammation, protect the skin from harmful UV rays, and minimize wrinkles. The Omega also has sea buckthorn oil, which has been proven to have anti-aging properties and may help reduce inflammation, repair damaged skin, and calm irritation.
Face Mask Recipe:
Time: 5 minutes
Yields: 3-4 Servings
Ingredients:
1 tbsp Organic Bentonite Clay

1 tsp organic activated charcoal powder

⅓ cup filtered water (add more if it's too thick when mixing)

½ squeezed lemon

4-6 pumps of The Omega
Directions:
Add dry ingredients, water & lemon to a bowl (try to use glass or wooden bowls/spoons) and mix with a bamboo spoon or knife

Once smooth, add pumps of The Omega in, stir & enjoy your mask!
We hope you treat yourself to this favorite face mask of ours! If and when you do, tag us on social media so we can see your creations! :)
With love and gratitude,
The Cymbiotika Team