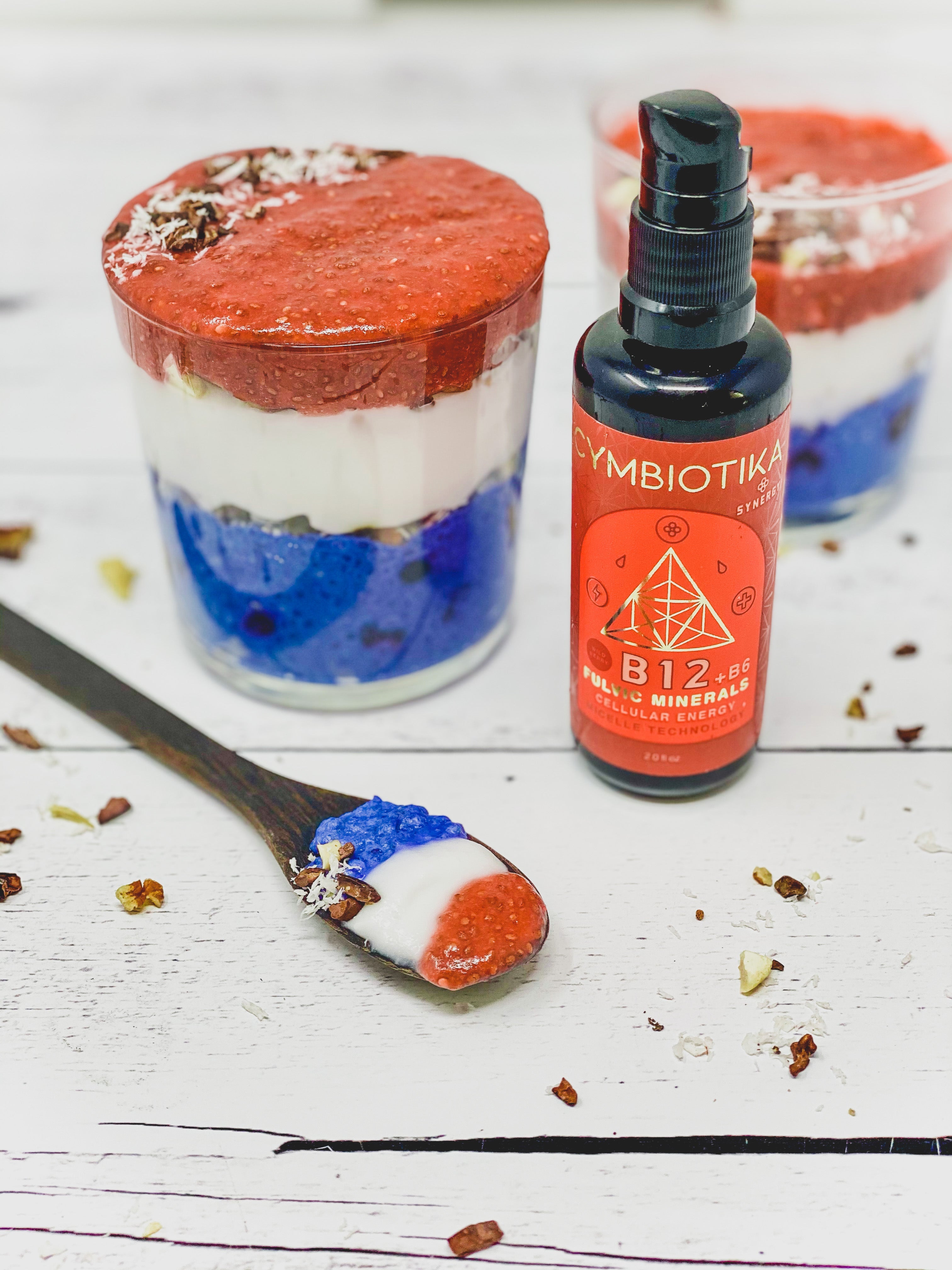 In honor of Memorial Day, we decided to get festive and create this beautiful layered chia seed pudding infused with blue butterfly pea flowers and homemade strawberry jam!
Before diving into this recipe, we want to acknowledge and honor those who have lost their lives while serving in the U.S. Armed Forces. It takes a very brave and selfless person to risk their life out on the battlefield for their country, and for this, we send our blessings out to all of these souls— may they find peace within their afterlife journey.
Since this is usually a day where friends and family get together and snack, we wanted to share this nourishing homemade "dessert" to satisfy all those sweets lovers out there!
Believe it or not, this recipe contains zero artificial colors, and instead, gets its vibrancy all from the power of beautiful plants and fruits!
This is a low-glycemic treat that is packed with nutrients to support metabolism, energy levels, digestion and more.
Chia seeds are rich in fiber, which helps to regulate the digestive system and aid in weight loss, and they also contain omega 3s, antioxidants, calcium, magnesium, zinc, iron, and protein. We decided to infuse the chia pudding with blue butterfly pea flowers, which have been used for their abilities to enhance memory, reduce stress & depression, improve cognitive function, ease anxiety, and calm the body/mind.
Along with this, we have added in our Wild Berry Synergy B12 to this recipe for its delicious flavor, and its advanced nutritional profile. Our Synergy B12 contains the two most bioactive forms of Vitamin B12, Methylcobalamine and Adenosylcobalamine, which are vital for supporting red blood cell production, ensuring proper neurological functions, enhancing mood and memory, and supporting heart and bone health. This formula also contains L-methylfolate, which is a critical vitamin for those who carry a mutation in the MTHFR gene. Our B12 is also enhanced with fulvic minerals, which helps to displace toxins from the cell and replace them with oxygen and trace minerals.
This layered chia pudding was designed to keep people satisfied throughout the day to avoid grazing on other unhealthy snacks. We hope you enjoy this as much as we do, and if you decide to make it, tag us in your photos so we can see your beautiful creations!
Recipe
Prep Time: 10 minutes
Set time: 1 hour
Total time: 1 hour 10 minutes
Ingredients:
Blue Chia Layer
⟁ 1 cup coconut milk
⟁ ¼ cup ground butterfly pea flowers
⟁ 1 tbsp maple syrup
⟁ ½ tsp vanilla extract
⟁ ¼ cup chia seeds
⟁ handful of blueberries
Strawberry Jam Layer
⟁ 1 cup strawberries
⟁ 1 tbsp lime or lemon juice
⟁ ¼ cup water
⟁ 3 tbsp chia seeds
⟁ 14 pumps of Cymbiotika's Synergy B12
White Layer
⟁ Plain or vanilla coconut yogurt of choice
Optional Toppings on Each Layer
⟁ granola
⟁ homemade trail mix (nuts, seeds, cacao nibs, coconut flakes etc.)
Directions:
Butterfly Pea Chia Layer
Add coconut milk, butterfly pea flowers, maple syrup and vanilla extract to a blender and blend until smooth/blue

Pour into a bowl and stir in chia seeds.

Place in fridge to set for 1 hour

After set, mix in blueberries and set aside or in fridge again
Strawberry Jam:
Add strawberries, lime juice and water to a blender and blend until smooth.

Pour into a bowl and stir in chia seeds.

Place in fridge to set for 45 min-1 hour

After set, add in 14 pumps of Synergy B12
Full Assemble
Add blue layer first, topped with granola or trail mix of choice (to avoid the layers seeping)

Add coconut yogurt and top again

Add strawberry jam, top & enjoy!
** store in the fridge with a sealed lid. Best consumed within 3 days of making.
Much Love and Many Blessings,
The Cymbiotika Team